Product
ENVI Assay System
High quality and proven test method for early detection and BWA identification.

The most compact immunoassay "lab-in-a-box" in the market.

Disposable, separate assays for seven highly poisonous hazardous agents: ricin toxin, botulinum toxin, Bacillus anthracis anthrax, orthopox virus, SEB, Yersinia pestis and Francisella tularensis.
ENVI Assay System
Ideal Tool for Provisional Identification of Biological Threats
ENVI Assay System biodefence tests provide military and civil defence officers with a fast, simple, and reliable solution.
ENVI Assay System test kits are featured with practical tools and straightforward test method giving fast response, specificity, and sensitivity ideal for provisional biological threat assessment from environmental samples.
Benefits
Why Choose ENVI Assay System
Sensitive, specific and proven

Handy and compact biological lab-in-a-box format

Suitable for both field and laboratory conditions with no requirement for special training

Simple operational steps: sample collection, solubilization, mixing, and dosing the sample can be done in seconds, and test results are ready in 15 -20 minutes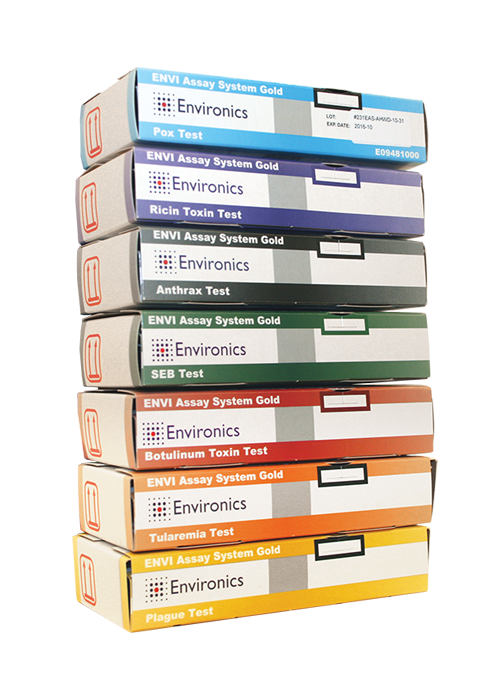 Product
Applications
ENVI Assay System allows for early detection and BWA identification, which combined with timely warning, protection and correct medical countermeasures are crucial steps for the whole process of biothreat management.
These rapid biodefence tests can be used in a broad range of applications, from law enforcement authorities, to private security services, airport security checks, to even mobile laboratories.
Package Size

10 single-packed tests/kit

Kit content

Test cassette (10 pcs)
Cotton swab for sampling (10 pcs)
Sample vial with buffer solution (10 pcs)
Filter cap (10 pcs)
Short instructions (10 pcs)
Package insert (1 pc)

Sample type

Air, soil, powders, liquids, surfaces

Response time

15 -20 minutes
For full specs