Solutions for Biological Detection & Identification
Biological threats include naturally occurring and emerging infectious diseases and use of weaponized, hazardous biological agents for war or terroristic purposes.
Releases of biological threat agents may take place intentionally or accidentally. Biological threat agents fall into the typical four categories: bacteria, viruses, toxins and rickettsial pathogens. These can be further classified on the basis of their availability, easiness of dissemination, transmission capability from a person to person, mortality rates, degree of public health impact and potentiality for causing public panic and social disruption and the nature of actions required for public health preparedness.
Hazardous biological agents are numerous, odorless and invisible and they are challenging to detect against the normal biological background present. They are typically effective in small amounts and people can be exposed to them through skin, by inhalation or by ingestion. Some of them are contagious. Depending on the agent, their incubation time ranges from a few hours or days to several weeks, meaning that people may start to show symptoms and get ill after a long time period from the exposure.
Early detection and identification of life-threatening biological agents is an essential step for the whole process of bio threat management. It enables timely early warning and protection, further analysis of the released agents and correct medical countermeasures to reduce the number of casualties and fatalities.
Environics Biodetection Solutions cover the steps from early warning bioaerosol detection to subsequent provisional BWA identification. This approach supports the typical biodetection principles and workflow in the threat situations. They include compact, robust and practical tools for biodetection and provisional identification to be used in fixed installed and mobile CBRN monitoring systems and in personal protection applications.
Learn More on CBRN Threats with a Free Online Course
"CBRNE Threats & Risks Online Course for All" is a free e-learning course created by Environics Training Manager Toni Leikas. It will walk you through the basic information of CBRNE agents, their possible threats and risks.
Start Studying Now
Application
Usage Scenarios
Bioterrorism events led by extreme organizations or individuals

Dispersion of weaponized BAs as aerosols

Contamination of food and drinking water resources

Poisoning or incapacitating targeted individuals

Intentional military use of biological weapons to cause death or to incapacitate forces

Accidents in research and production facilities

New and emerging infectious disease agents

Genetically modified BAs with improved pathogenic features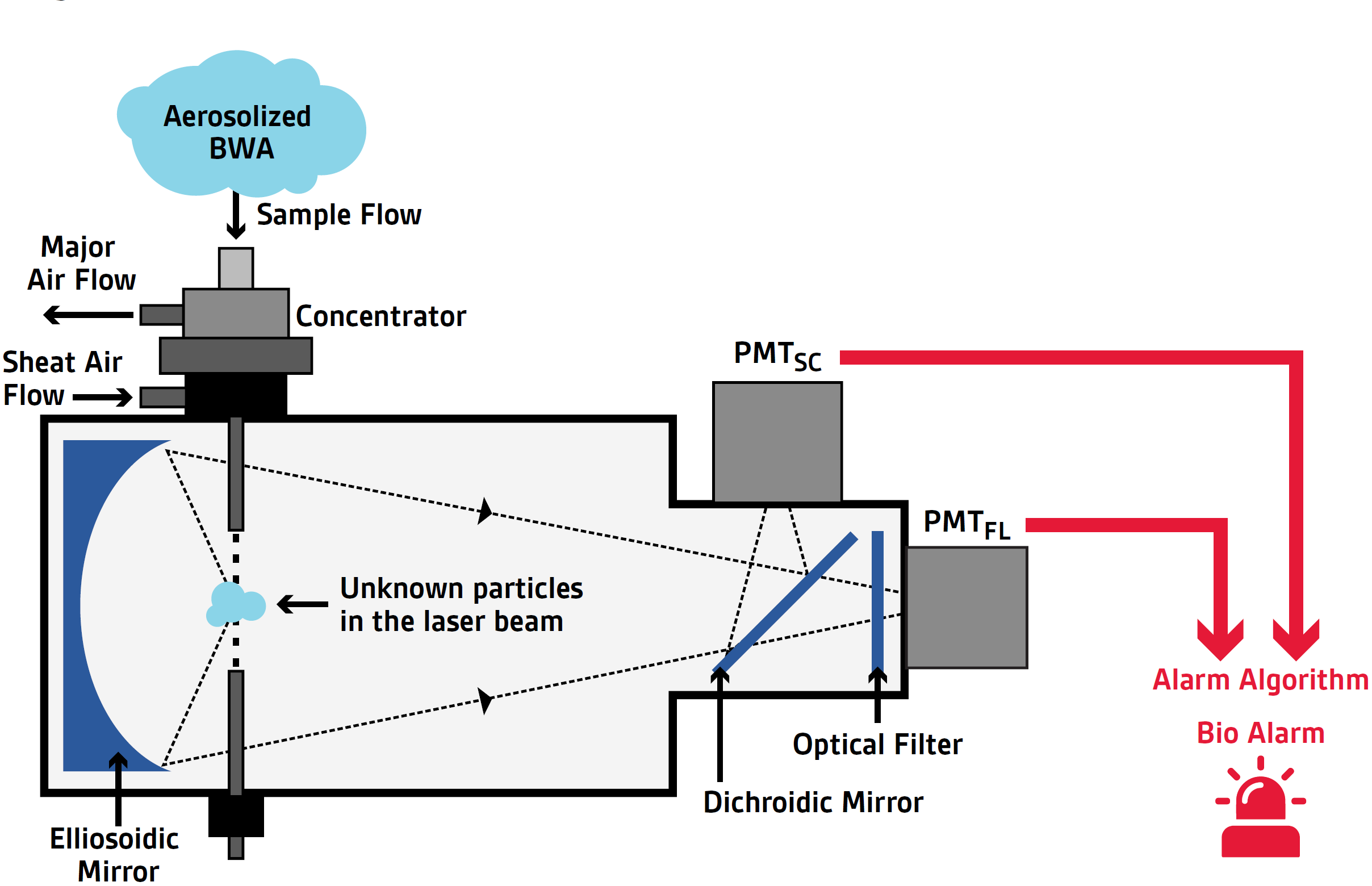 Biological Detection Technology
Environics uses proven real-time bioaerosol detection technology based on UV fluorescence and elastic scattering, applied for detecting 0.5 – 10 μm airborne particles of biological origin.
ENVI BioScout also employs easy and efficient filter sampling for collection of further bioaerosol sample at the time of a biological alarm.
Biological Identification Technology
In addition to the detection technology, a bio sampling system allows for collecting air samples that can be retrieved with a short rinsing protocol, and the solubilized samples can be used for biological identification e.g. with rapid immunoassays and PCR techniques.
Biological identification can also be performed by employing an immunochromatographic lateral flow test format, for qualitative detection of the presence of selected BWAs in environmental samples.