Creating Safety Since 1987
Environics history dates back to 1987, when the company was established in Mikkeli, Finland. Its fundation resulted from the completion of a R&D cooperation project with the Finnish Defence Forces.
The development project aimed at creating a totally "Made in Finland" automatic gas detector, and Environics served to ensure the continuation of the development, manufacturing, marketing, and sales of the new M86 gas detector.
Throughout the years, Environics has known 3 different facilities locations (all in Mikkeli), has been led by 3 different CEOs, delivered to over 50 countries, and saved countless lives.
We decided to deep dive into Environics' dusty archives, and during 2022 we will compile photos from the past, each one of them telling a story, a short chapter of:
#EnvironicsHistory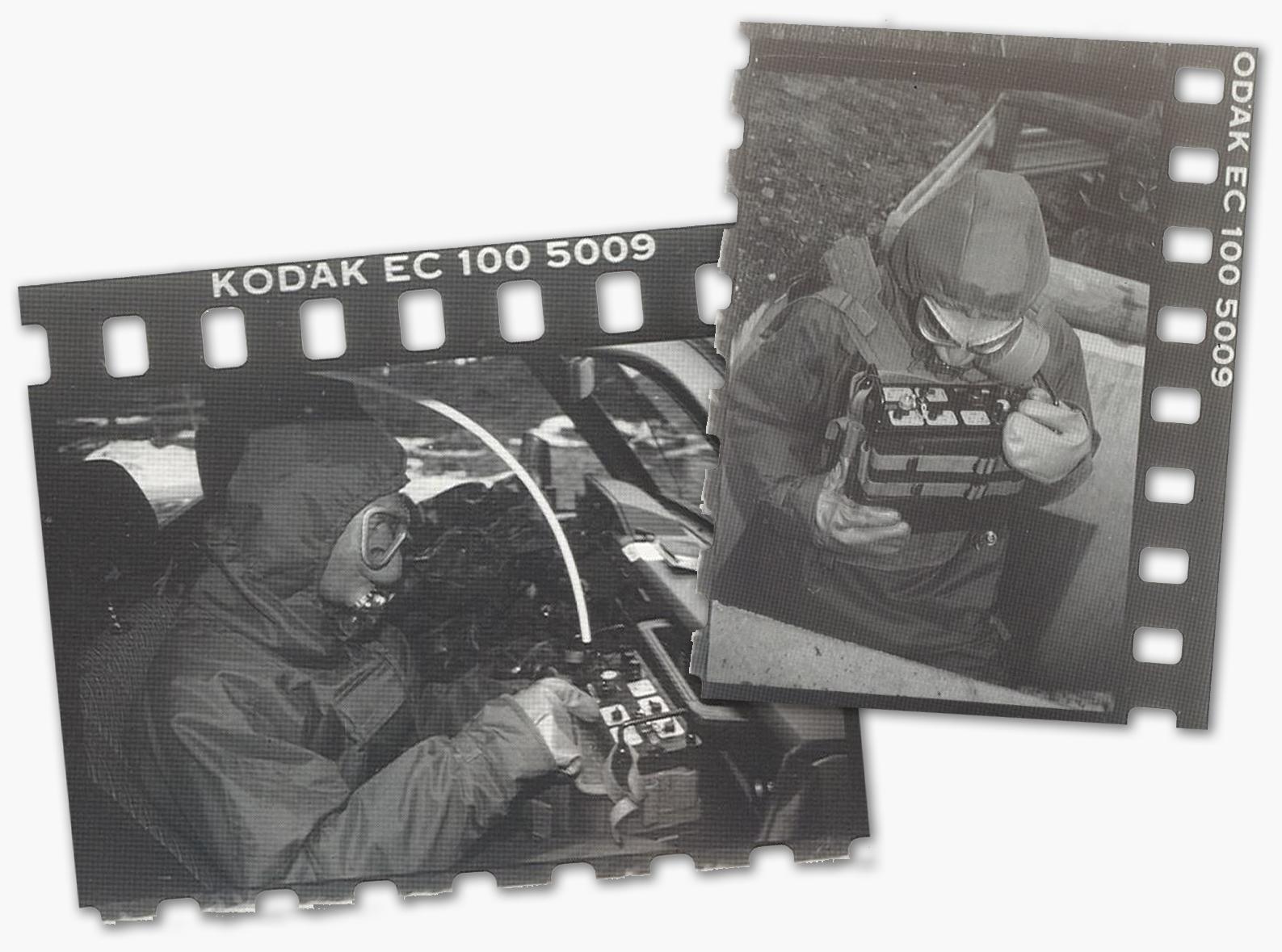 1987
Unframed diapositives representing M86/A chemical agent detector during testing and development. Quoting an old brochure "The M86/A System is intended for detection, warning and monitoring of chemical agents in the field and in permanent installations. M86/A ia approved and used by Finnish Defence Forces."
Important to note that M86/A as portable device was meant for military operations only.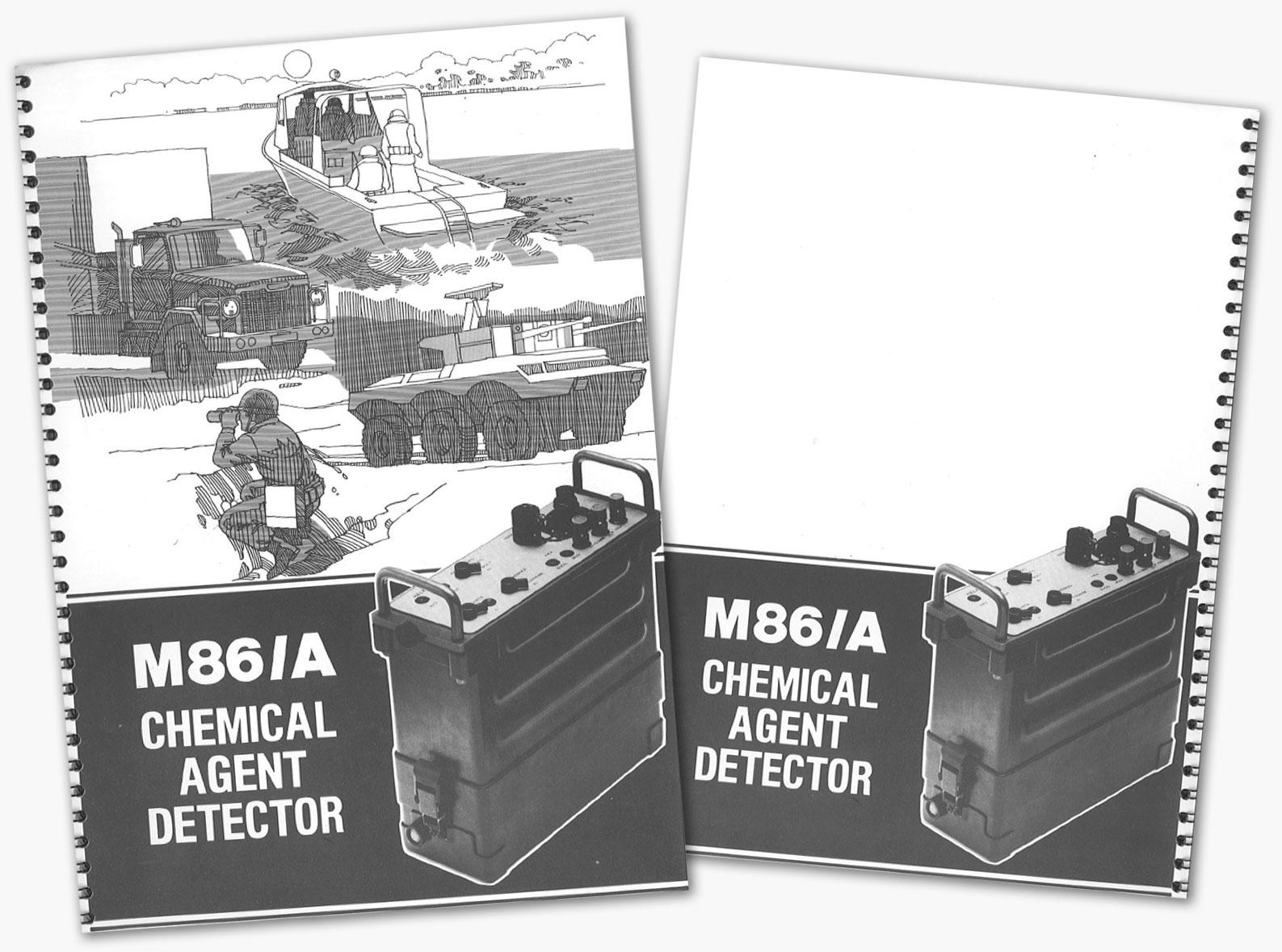 1988
M86/A continued to be the focus of Environics Oy business during 1988. This unique brochure which layout combines photography, typography, and hand drawn illustration elements, showcases some the typical applications of thw M86/A system: "On-the-field", "Vehicles, airplanes, ships", "Fortifications, airports", "Civil defence", "Accidents", and "Environmental protection". These categories were taken directly from original promotional materials.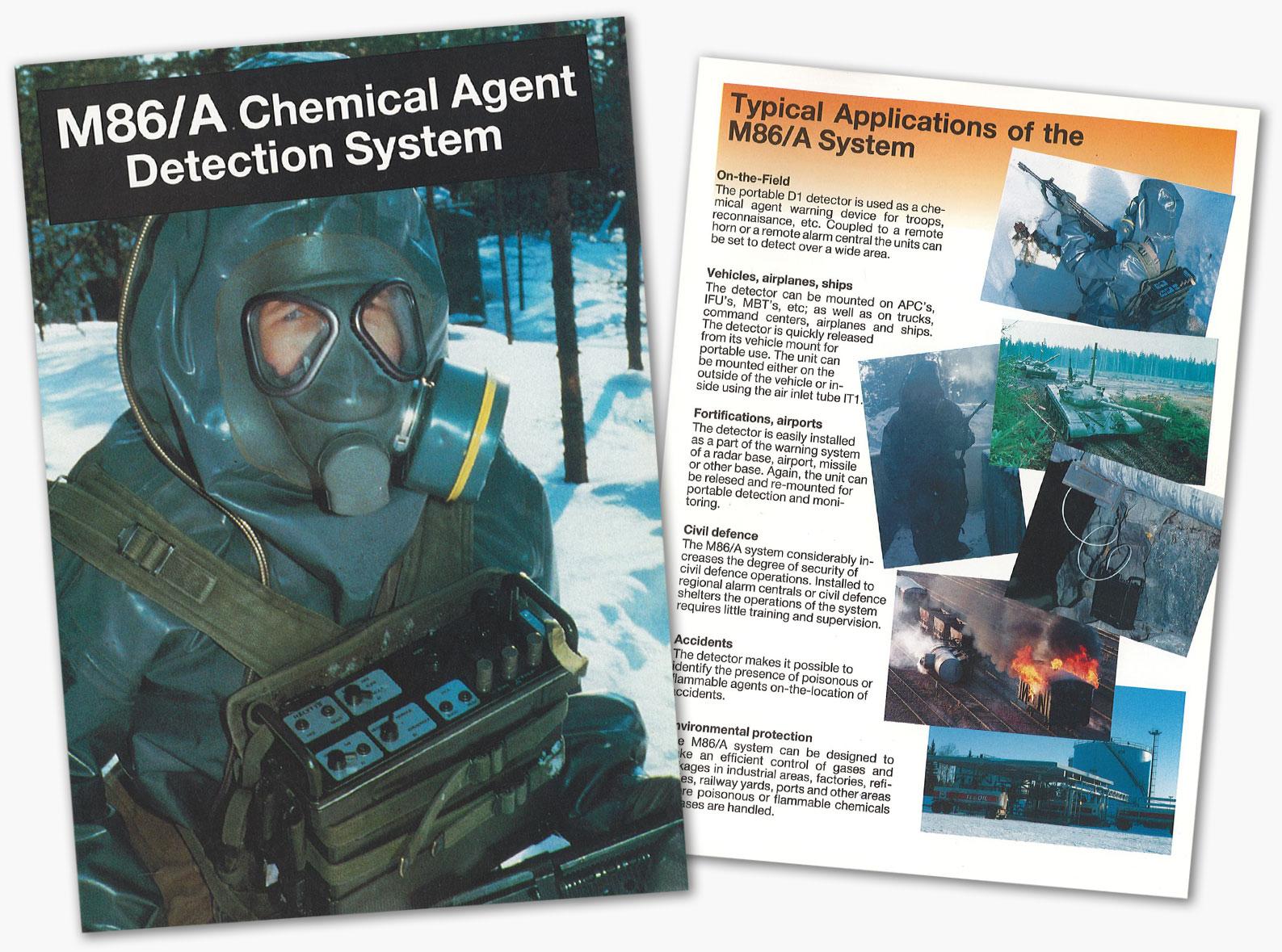 1989
According to the Infantry Yearbook of 1989 (Jalkaväen Vuosikirja p.88) M86 was used in the field during 1989 by the Finnish Defence Forces for chemical sampling and monitoring. The device is described as "…small and light, suitable to be carried with you, among other things, for team usage during reconnaissance patrols. When connected to a central unit and remote alarms, the device can "guard" a wide area. The alarm limit for nerve gas is 0.1-0.2 mg / m."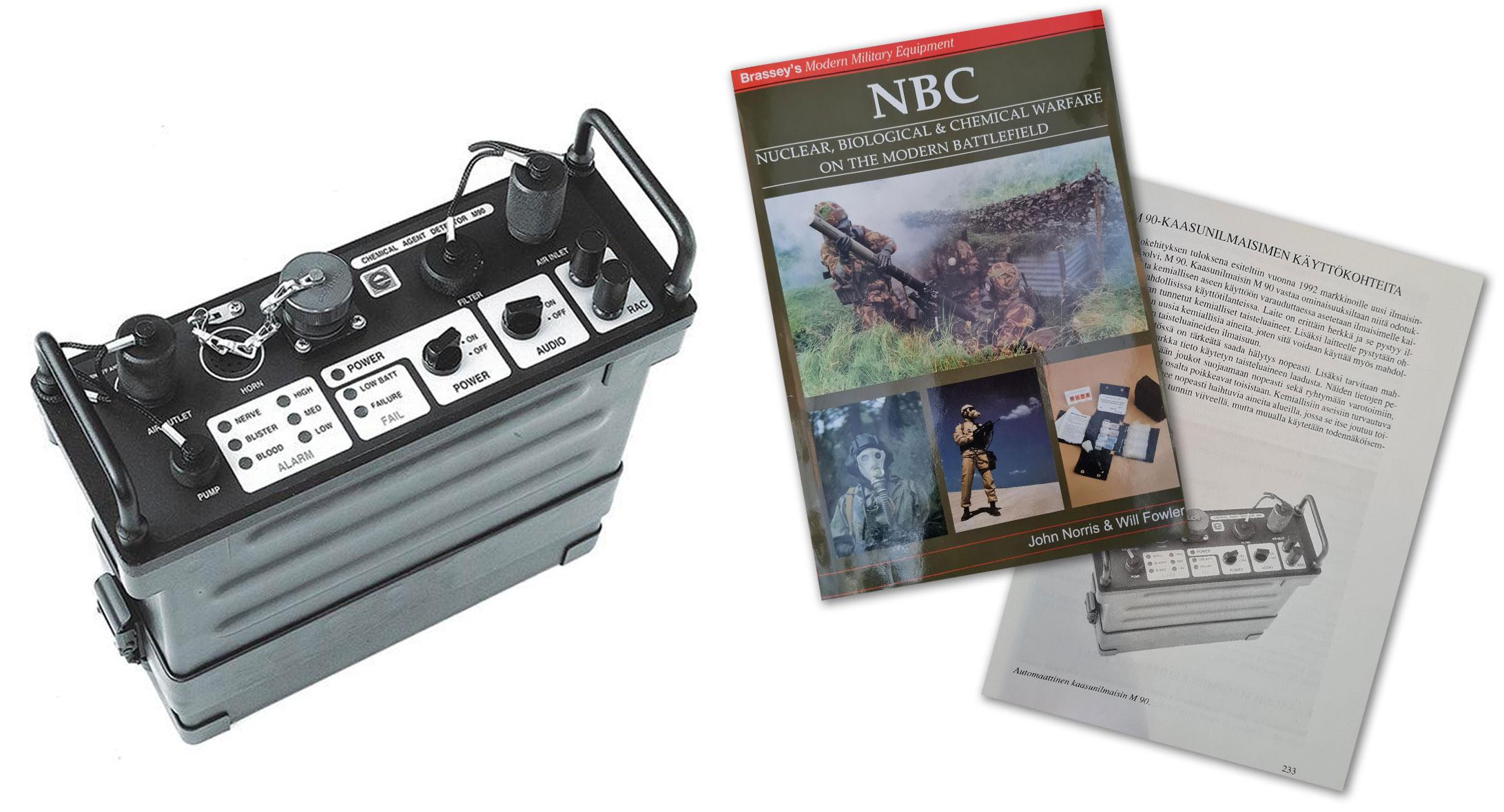 1990
The M90 Chemical Warfare Agent Detector starts to be developed in the early 90's, as an upgraded version of the M86. The M90 aimed at enhancing the mobility and individual safety of the operator. As stated in NBC – Nuclear, Biological & Chemical Warfare on the Modern Battlefield, "the M90 (…) is light enough and sufficiently compact in design to allow it to be used as either a stand-alone remote device or to be operated by one person. (…) It has a low false alarm rate and can be interfaced with local command, control and communication systems to provide a comprehensive chemical alerting system".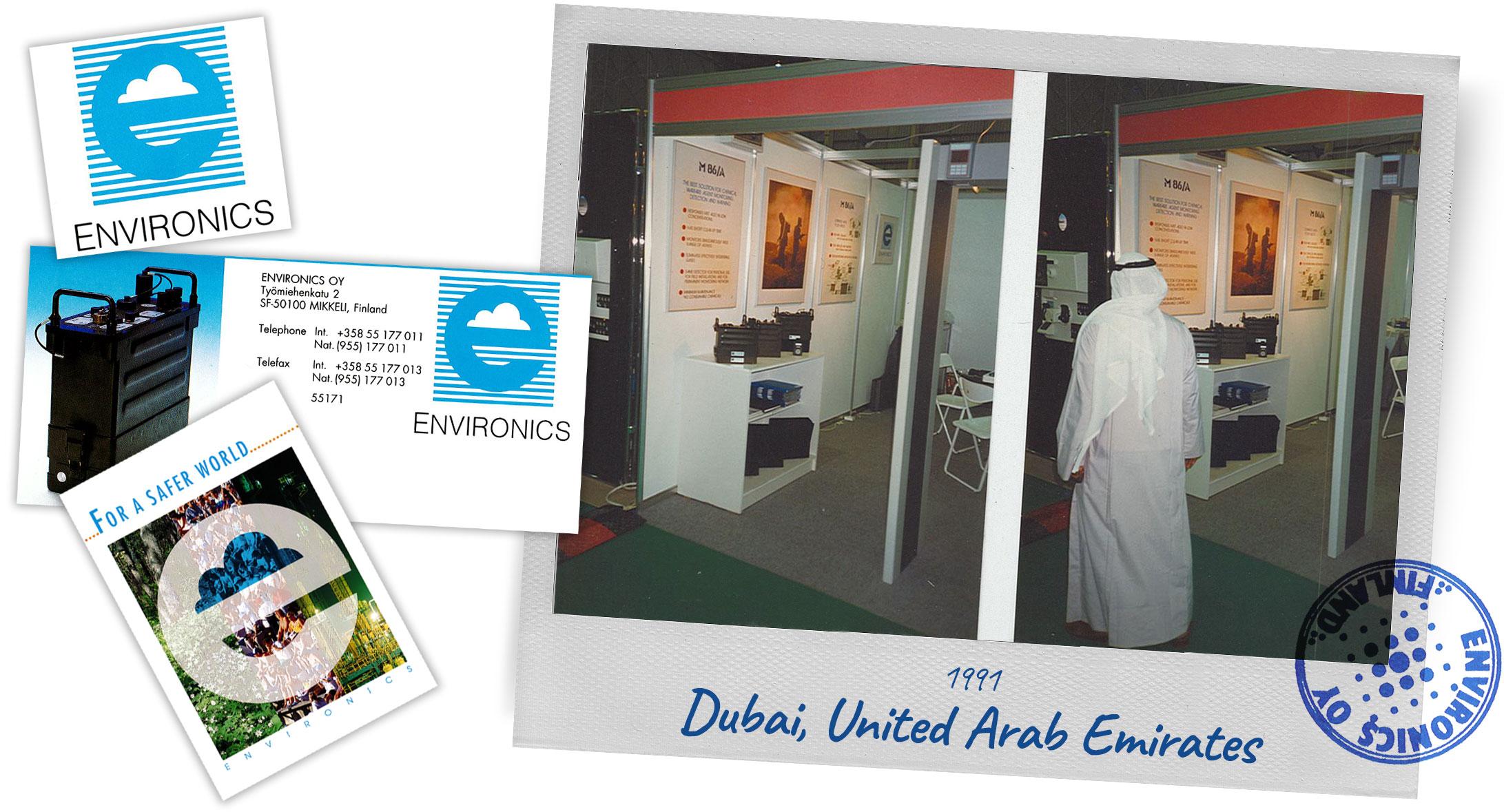 1991
Environics also begins to expand its international visibility by attending industry dedicated exhibitions. Back in 1991, a team travelled from Finland to the UAE, to showcase Environics solutions at the Dubai Airshow. This "open to business professionals and industry only" biennial air show usually takes place in January, but in 1991 the show was moved to November due to the outbreak of the Gulf War, and it had a strong military focus given events in the Middle Eastern region. Environics stand utilized a previous branding, with an "e" letter with a cloud shaped counter, indicating a stronger emphasis on the "environment" rather than on the "electronics".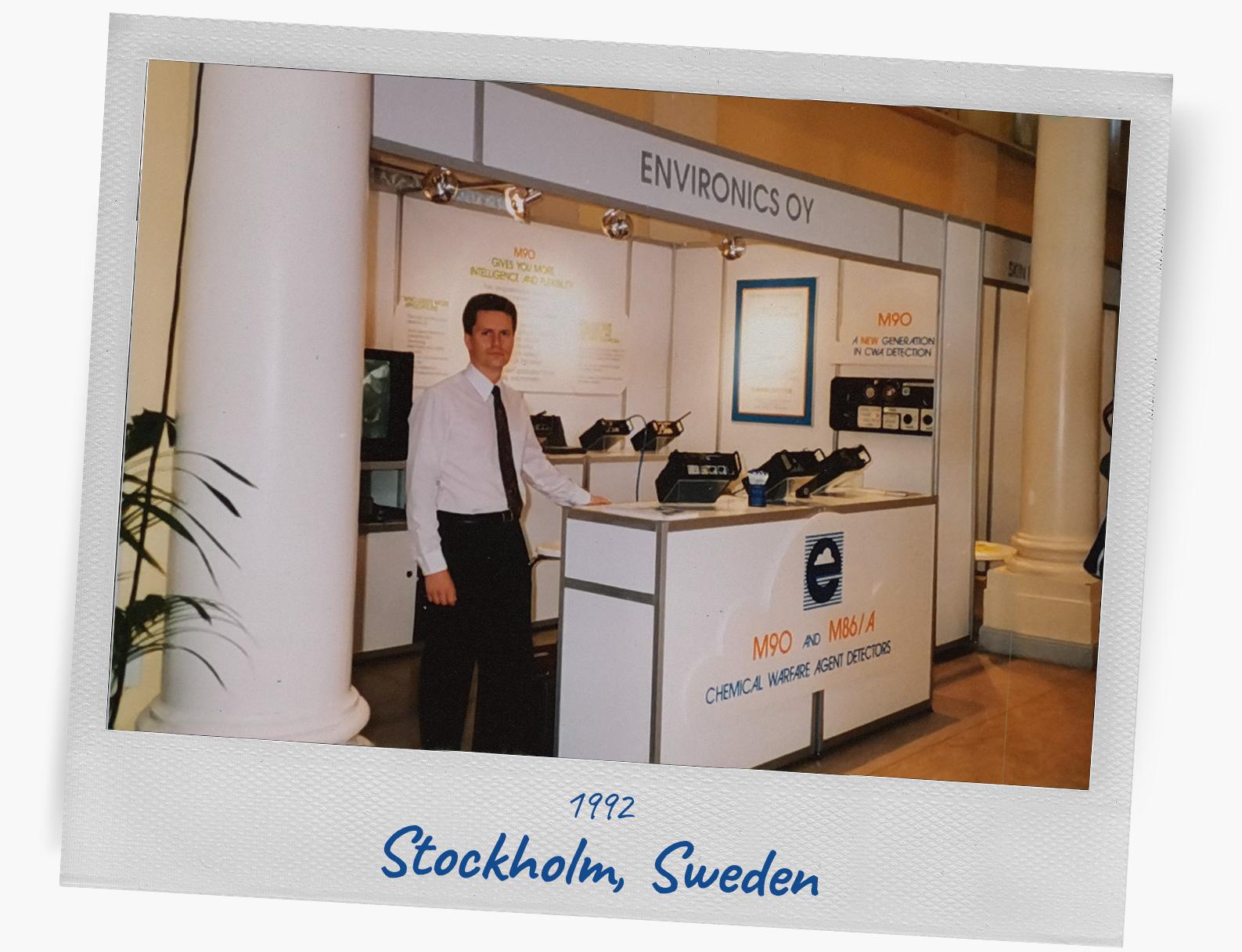 1992
In the Summer of 1992, Environics Oy was showcasing chemical warfare agent detectors M90 and M86/A at the 4th International Symposium on Protection against Chemical Warfare Agents, which took place in Stockholm, Sweden, from 8 to 12 of June. This as also the occasion of the official public lauch of M90. Environics has been a regular exhibitor at this symposium that happens every third year since then. This event was initially focused only on Chemical Warfare Agents, but throughout the years expanded its reach to full CBRN matters. The photo represents Sales & Marketing Manager Mr. Ilkka Sintonen, the only fulltime sales person by this time.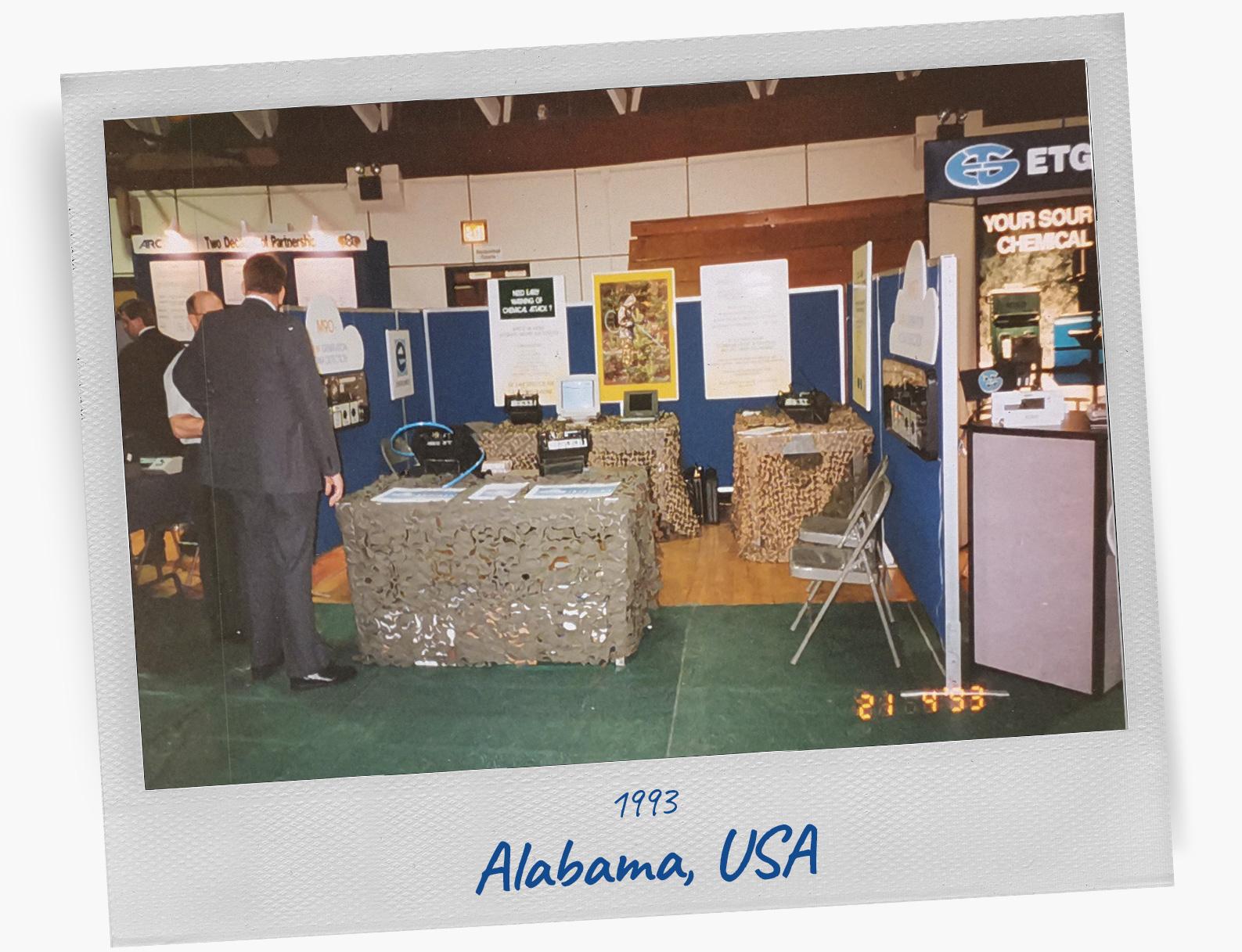 1993
Environics keeps on showcasing M86/A and M90 Chemical Warfare Agent Detectors in industry dedicated shows, mostly focused on defence area, such as the US Army Worldwide Chemical Conference, which took place at the US Army Chemical School. It is also around this time that accessories for the M90 CWA Detector System such as the M90-PA (personal alarm units) and M90-TM (transmitters for wireless networks and individual warning) are released, supporting the premise that "successful military oprations are based on high mobility and quick decisive action. NBC protection and warning must also be mobile and respond quickly to provide maximum individual protection".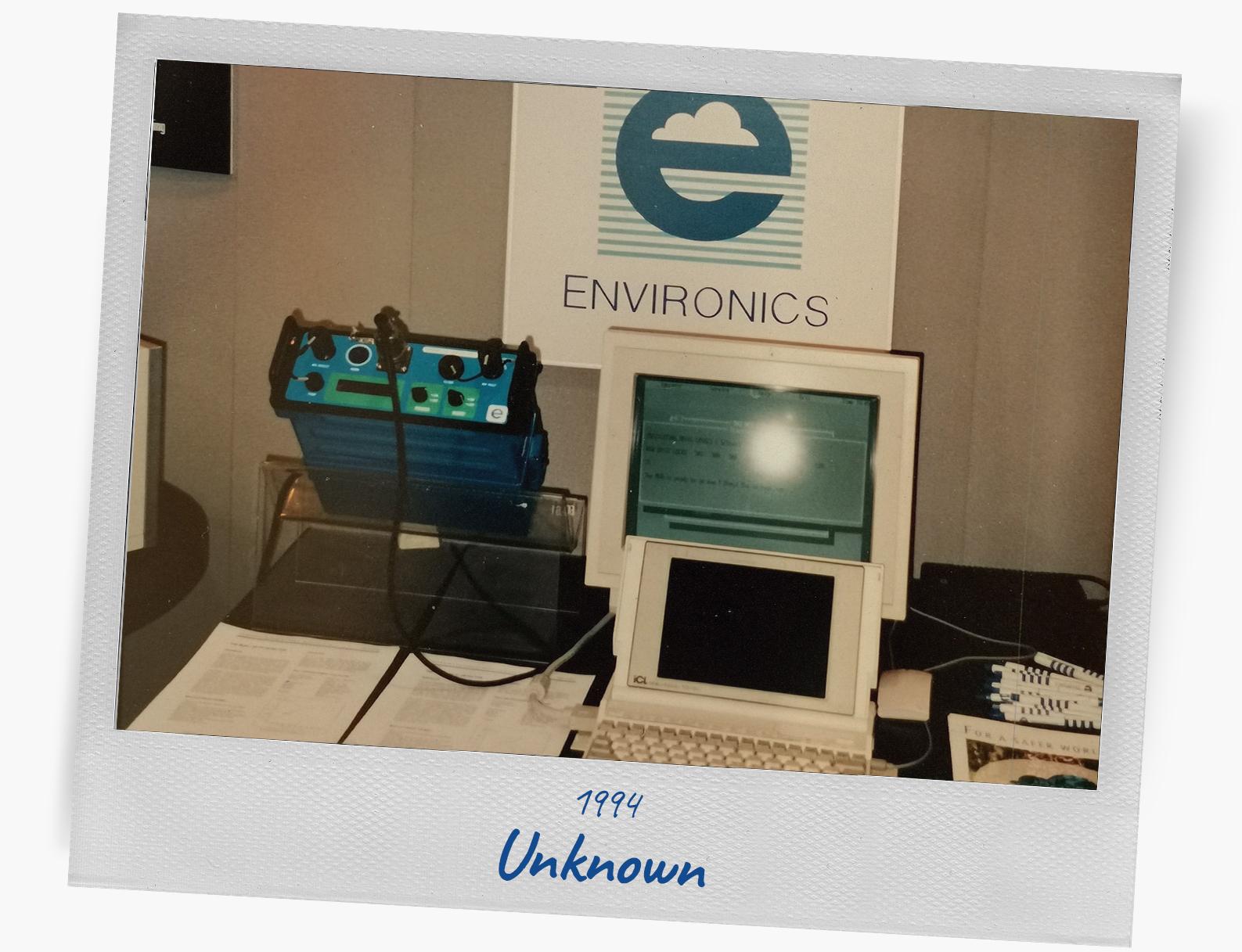 1994
On the Spring of 1994, Environics was introducing the  MGD-1, an IMS Multi-Gas Detector for organic gases originated in industrial hygiene, fugitive emissions and toxic waste. The MGD-1 featured sub-ppm detection levels of a wide range of gases — it was programmable to detect up to 30 gases simultaneously — it had a fast detection time, could be used as portable of fixed installation point and had  bidirectional rs-232 communication for computer or network linkage. At the same time, the trade show exhibiting equipment still included M90 Chemical Warfare Agent Detector together with the generic slogan: "Gas Detectors, The Sixth Sense for a Safer World".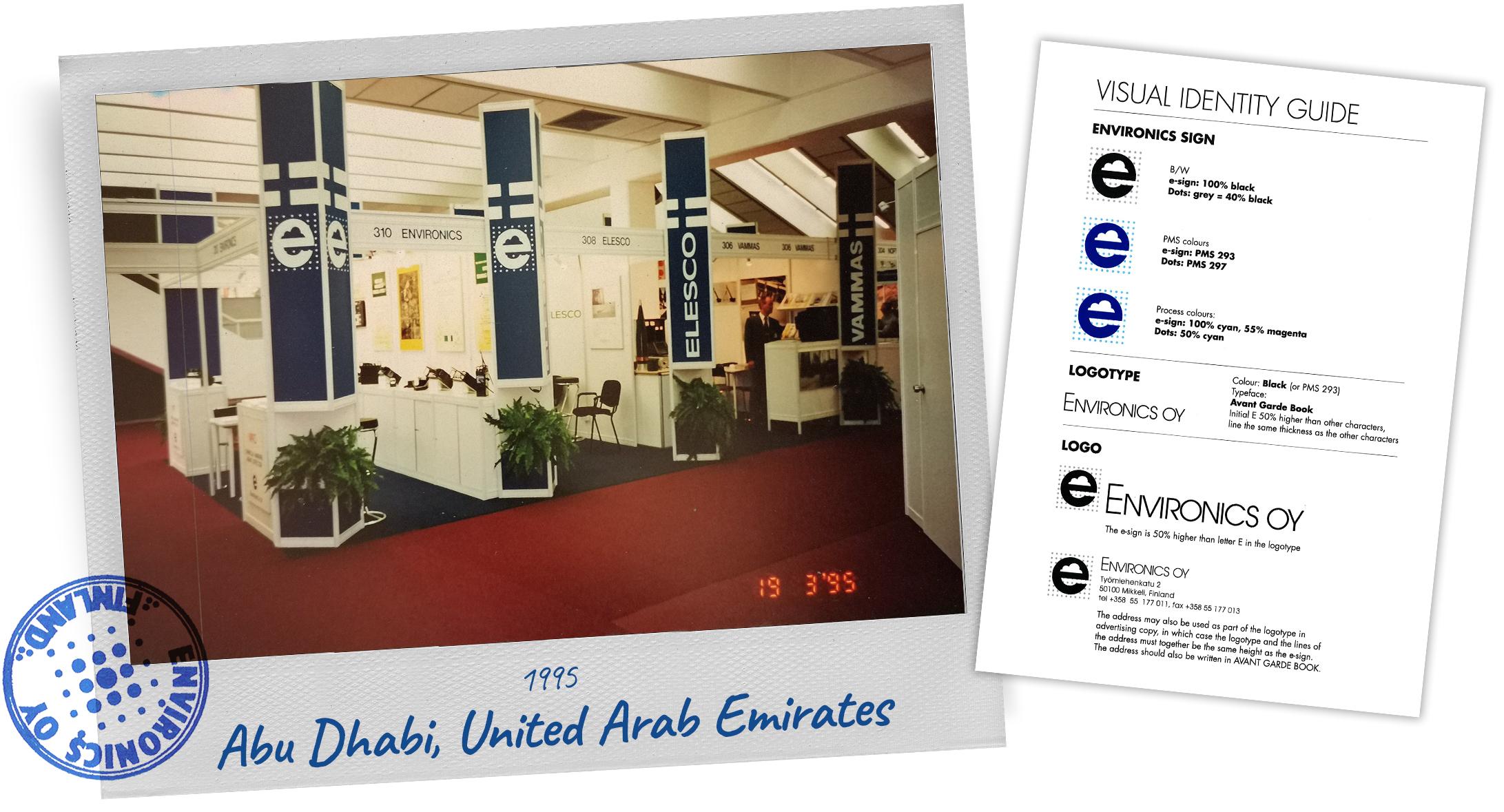 1995
Environics chemical detectors were showcased in IDEX '95, Abu Dhabi's second International Defense Exhibition & Conference, that took place from 19th to 23rd March 1995. It is interesting to once again point out the usage of the initial branding, based on the visual identity guide.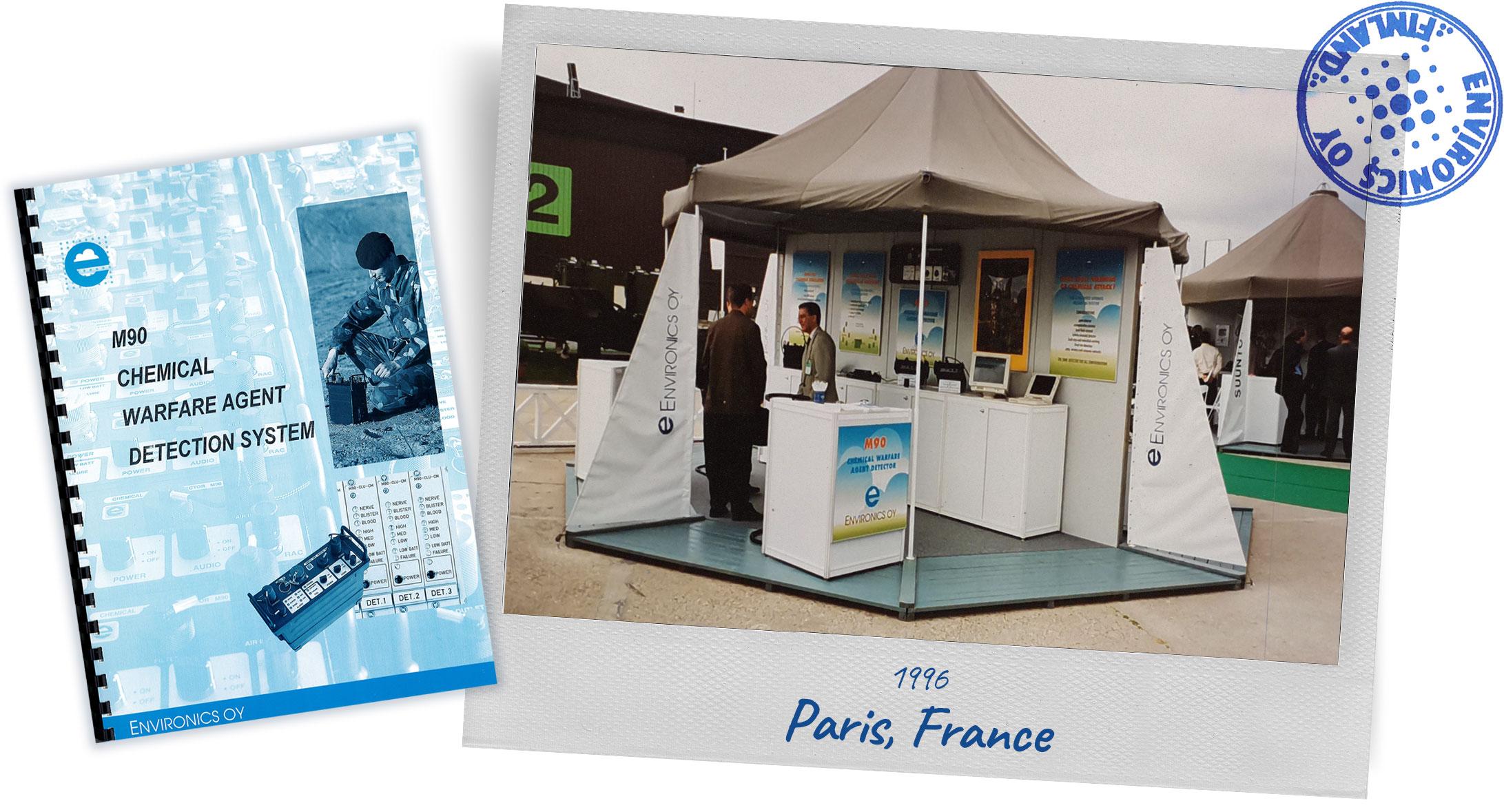 1996
In June 1996 Environics participated in Eurosatory Arms Show at Le Bourget, on the outskirts of Paris. In this year Eurosatory reached full international scale, having exhibitors from all over the world (723 exhibitors from 33 countries), even though its first edition dates back to 1992.
1997
Environics is well known in the CBRN industry business by the effectiveness and accuracy of its in-house developed technoligies. This is only possible due to high-skilled dedicated staff with strong collaboration bounds that last for decades. Like "veteran" Bid Manager Ismo Loukoila, in this photo represented in his early years as a Test Engineer, thoroughly checking M90 at the company's reasearch lab in Työmiehenkatu — Environics first headquarters address — to ensure the device's highly quality functionality.
Page under construction during 2022.

Follow #EnvironicsHistory in LinkedIn for being notified on the next updates.