Product
RanidPro200
High performance tools for radionuclide search, identification and location.

First automated gamma radiation localizer in backpack detectors.

Sensitive method for finding multiple sources of radioactive material.
RanidSOLO
Spectrometric Radiation Source Locator for RanidPro200
RanidSOLO is a valuable add-on for RanidPro200 that enables tracking down multiple sources of gamma radiation.
Calculation of the estimated source(s) location in approximately 12 seconds.
Benefits
Why Choose RanidPro200
High sensitivity

High precision automated localization method

Automatic energy stabilization – valid data available all-time

Exceeds ANSI and IEC standard (15 degrees precision)

Estimation of the source location calculated reliably and quickly – approx. 12 sec

Remote control through a smartphone interface

Full reach back capability

Easy to use expert tool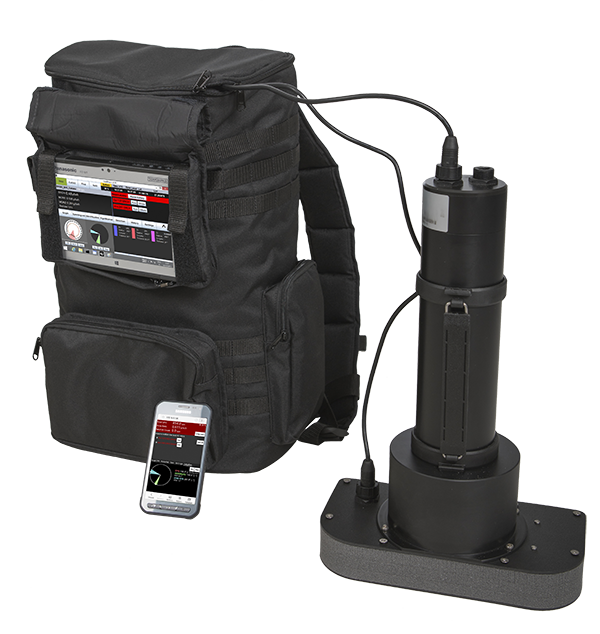 Product
Applications
From locating orphan sources, to enhancing the radiological safety of critical infrastructures, and preventing the illegal smuggling of radioactive material into a country's crossing border section, this radionuclide identifier backpack with added source location can also be integrated with both light and armoured reconnaissance vehicles.
It can equally be used as a surveying tool of potentially hazardous areas by first response teams, or for monitoring high security events.
Size

Approx. 440 x 340 x 190 mm
(17"L x 13"W x 7"D)

Weight

Approx. 4,7kg (166 oz.) with LaBr3 and Neutron detector
Approx. 5,9kg (208oz.) with RanidSOLO

Power

Uses FZ-M1 Toughpad internal battery 100-240V (50-60Hz)

Battery Life

>6 hours without External battery unit
Approx. 8 hours with external battery

Communications

WLAN, 3.5G, Integrated GPS, Optional with hot swappable battery, RJ-45 Ethernet, LAN

Spectrum

Configurable as 2048 or 1024,
Maximum Count Rate > 250 kcps
For full specs