How to Use ChemProX Provided Information
The webinar It's Not About the Results, It's What You Do with Them – How to Use ChemProX Provided Information was first broadcasted on June 10th 2020 and takes about 50 minutes. The host is Toni Leikas, Training Manager & CBRN Specialist. This webinar is part of a series of three sessions that aimed to deepen the understanding of different aspects of handheld chemical detection.
The other webinars included in this series concentrate on the rule of thumb for chemical detection and the practical experience of ChemProX trainings.
It's a Detector… It's a Simulator… It's ChemProX – Practical Experiences of ChemProX Trainings webinar provides information about chemical databases, detector provided information, and how to use all of this information to accomplish successful missions.
How Do the Operators on The Scene, Wearing Full Protection Gear Will Find The Needed Information After a Chemical Alarm?
The first steps are crucial to save time, and consequently, lives. In order to avoid overwhelming amounts of information, ChemProX only retrieves information about agents it can detect and classify, and also exclusive operation procedure information, that is needed on the scene. The user can costumize these according to national or organization requirements.
After all, what information does ChemProX serve to the operators?
Detection mode and sensitivity selection according to the threat.
Real-time chemical monitoring, from trend view to alarms.
Instructions on how to proceed in various chemical incident situations and under certain concentrations (SOP).
Chemical classification information.
Chemical database info for the chemicals present in the different detection modes (CWA and TIC).
Team members real-time status.
What information is displayed in the Chemical Agent Database?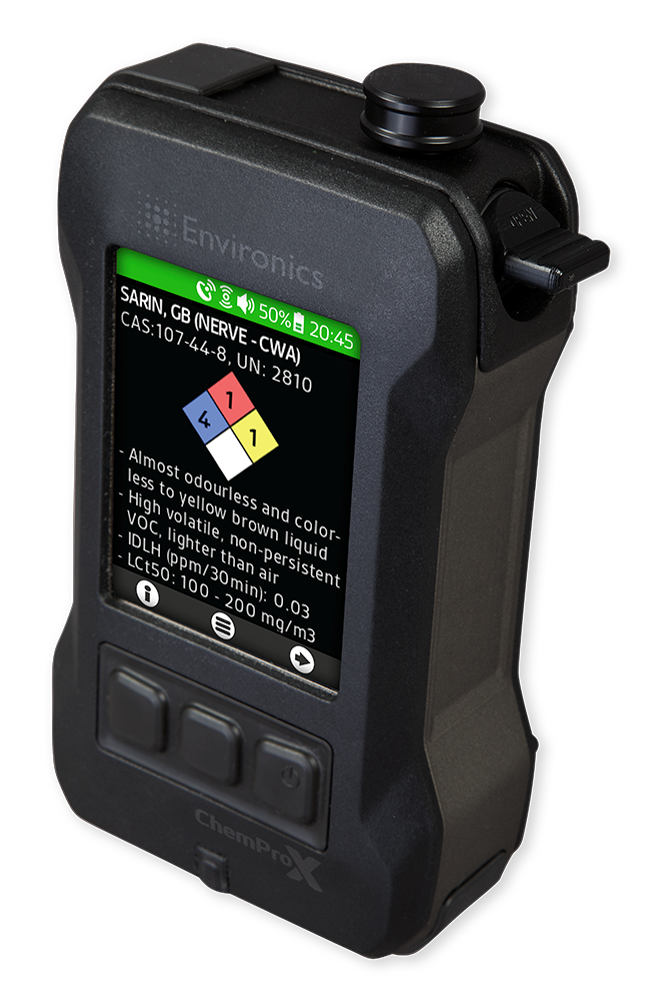 The in-built chemical agent database comprises the following information: chemical agent name and class, CAS and UN numbers, NFPA 704 "fire diamond" (containing info about impact on health, flammability, reactivity, and special notices), agent's odour and colour, volatility, persistence, and IDLH / LCt50 values (if applicable).