Suddenly, We Invented the Shelters Again
Shelters, their need and readiness for use under emergencies and military attacks have been set to the worldwide spotlight due to over one-year lasting war in Ukraine.
Shelters and hardened structures take many forms – they range from simple residential facilities to luxurious underground VIP bunkers, and from military command or data centers to governmental or public civil spaces and beyond.
They can be mobile or stationary structures, and they may not be only resting facilities used only during the time of emergencies, but for peace time activities, too. They contain specialized collection of doors, hatches, valves, wall sleeves, filtration units and live supporting and detection systems to provide blast proof, gastight spaces with uncompromised air quality for the specified number of occupants for a given sheltering period.
From Mass Civil Protection to High-end Hardened Structures
Finland as a Case of Shelter Preparedness
Civil defense shelters are the ones that provide essential protection for people against military threats in the areas of everyday living. They are intended to protect population against the effects of explosions and fragments, collapses, blasts, ionizing radiation and airborne substances hazardous to health.
Since 1950s, Finland has shown forerunners´ preparedness, activity and expertise in building civil defense shelters, based on the Rescue Act and Government Degrees on the Civil Defence Shelters and their Equipment and Supplies and Maintenance. Finland has also long and strong industrial tradition and expertise in the field. With its approximate of 50 500 civil defence shelters, Finland is capable of offering protection to nearly 4.8 million people. Most of these shelters are private, being reinforced concrete shelters located in individual buildings or joint bunkers for group of buildings.
Did you know that civil defence shelters take several other roles in normal conditions?
In Finland, your favorite underground sport hall, nearest metro station or an underground parking space in the middle of a city you stop by during your weekend shopping or the storage space in your apartment house is in fact – a civil defense shelter. Rules and regulation do not determine only their requirements for building codes, sizes and durability and equipment, but their readiness for the actual purpose – that shall take place within 72 hours from announced emergencies. A direct and imminent danger to the population is communicated with general alarm signals and emergency warnings through media channels.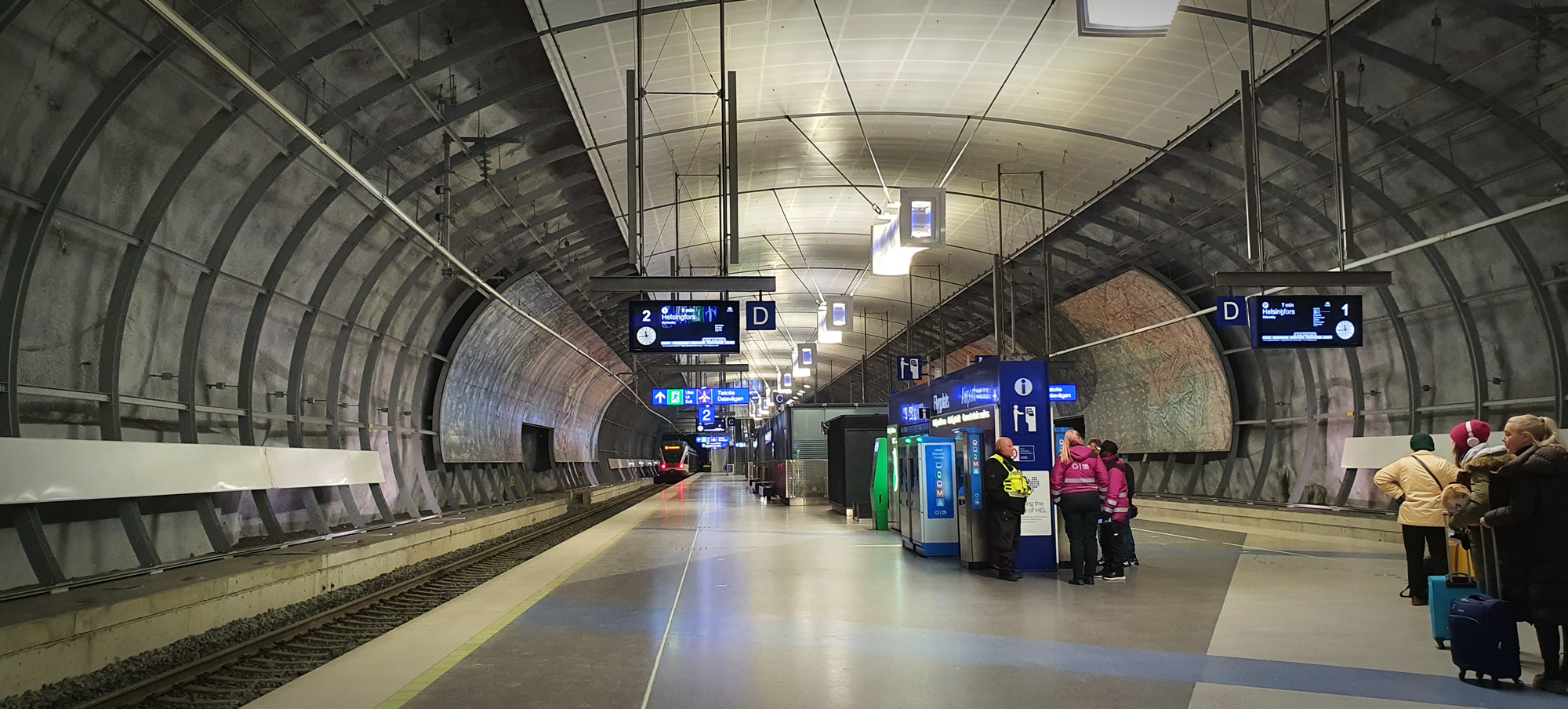 Due to the nature of the work conducted by the national safety and security professionals, protection of the governmental and military operators sets special flavor for equipping the respective class of shelters. The ones leading and defending sovereign nations are especially prone to hostile activities that aim to incapacitate and eliminate the key players. Sabotages, acts of terror and military attacks can take use of vaporized chemicals, airborne biological agents and ionizing radiation that stay unnoticed to human senses without CBRN detectors in place. From these, chemical agents will have their effects in minutes, but radiation and biological agents are silent and invisible devils that start to show symptoms after longer periods of time – when it is already too late.
CBRN Monitoring Systems in the Context of Shelters
When time is the valuable asset in fighting against CBRN threats, the indication for the need of sheltering shall be timely and reliable, and lead to feasible and suffient actions.
This is the stage where CBRN monitoring systems come into the view: their role is closely related to the real-time situational awareness that enables smart and timely use of shelters. For activating and progressing from one sheltering mode to another, one must have an indication for the need for protection through the phases of preparation and close up to CBRN filtration mode, and again back to the normal through by-pass to post sheltering phases. Stationary CBRN monitoring systems provide the shelter operators with event & measurement information primarily on the outdoor environment and secondarily, on the indoor environment of shelters for informed decision making. In the first place, their role is to generate early-warnings alarms for the detected hazards and to trigger the sequence of activities in sheltering, and communicate the event information to Building Management System and to respective shelter control system. In addition to CBRN, monitoring of air quality sensors is typically an essential part of the sensor suites of shelters gathering masses of people under the same roof for long periods of time.
At their best, CBRN monitoring systems do not only provide early-warnings, but guidance at the threat events to the shelter operators. Furthermore, they help them to maintain operators´ knowledge and skills that are essential for conducting the standard operational procedures on routine basis. Since maintenance of existing shelters and their equipment is as important as shelters´ existence in general, an advanced CBRN monitoring system reminds the operators of the need for preventative and corrective maintenance that helps to keep the facilities prepared and running continuously, when needed. These elements of guidance, training and simulation and maintenance are typically inbuilt in the system software that acts as a frontline view for the operators in the control centers.
Summary
Shelter designs with their technical and functional requirements are reflected by several factors. CBRN monitoring systems are linked to the holistic security concepts, so shelter categories designed take into account:
The type and the purpose of the shelters
Threat scenarios and desired protection levels according to risk assessments
National rules and regulations
Functional modes, operational procedures and countermeasures during emergencies
Networking and communication of real-time situation to all relevant stakeholders.
From a CBRN monitoring system point of view, it is essential to understand how the various aspects of safety are connected in a practical level in different shelter classes. Typically, a turnkey CBRN Monitoring System in a shelter target combines, in a variable degree,  elements of…
Timely situational awareness and guidance for the shelter operators
Alarm information used for decision making on the use of the different sheltering modes and all the activities related
Reporting and information flow to 3rd party systems manual or automatic shelter control systems
..and building management systems:
Air quality monitoring
Inbuilt simulation and training functions
Maintenance management tools
Complementing hand-held/portable CBRN instrumentation for confirmation & contamination control
Optional CBRN monitoring system for perimeter protection
Environics & Shelter CBRN Monitoring
Environics operates in the field of Building and Shelter CBRN Monitoring with its proven and agile expertise of many decades. The newest launch, the X-System, represents a scalable, modular and redundant CBRN Solution suitable for all shelter designs. Formed by the ChemProX-DS for chemical detection, the RanidX for gamma radiation and X-ray radiation detection and the ENVI BioScout for bioaerosol detection, the system offers cutting edge, reliable and complete set of early-warning instrumentation. Complemented with the EnviScreen system software, the turnkey solution provides real-time situational awareness, guidance and training & simulation tool for shelter operators.
Would you like to know more?
Download the Shelter CBRN Monitoring Application Note and gain access to exclusive content on X-System when used in shelters.