Narrative White Paper
Utilizing ChemProX in a Suspected Clandestine Laboratory Case
Suspected Clandestine Laboratory Case Disclaimer
The facts and operational actions expressed in the following content are merely illustrative and represent a potential case scenario. These are not based on the standard operation procedures of any organization.
Case Scenario: Suspected Clandestine Meth Laboratory
The law enforcement agency receives a call regarding the existence of a suspected clandestine lab.
The suspected illegal narcotic laboratory was a trailer parked nearby a residential area. Based on information gathered from previous reports and observations, it was suspected that the scene might contain unknown chemicals, and other compounds in liquid or solid form.
Download full white paper
Taking into account the threatening potential of the scene, the law enforcement agency officers from a specialized Hazmat unit were equipped with chemical detection equipment and sent to the area.
While it was important to acknowledge what exactly kind of threats might be present in the scene, the priority was to ensure the safety of the law enforcement officers. With the suspect already apprehended and taken into custody, the direct threats of physical violence and harm were ruled out.
IMS Technology
Field Detection Utilizing ChemProX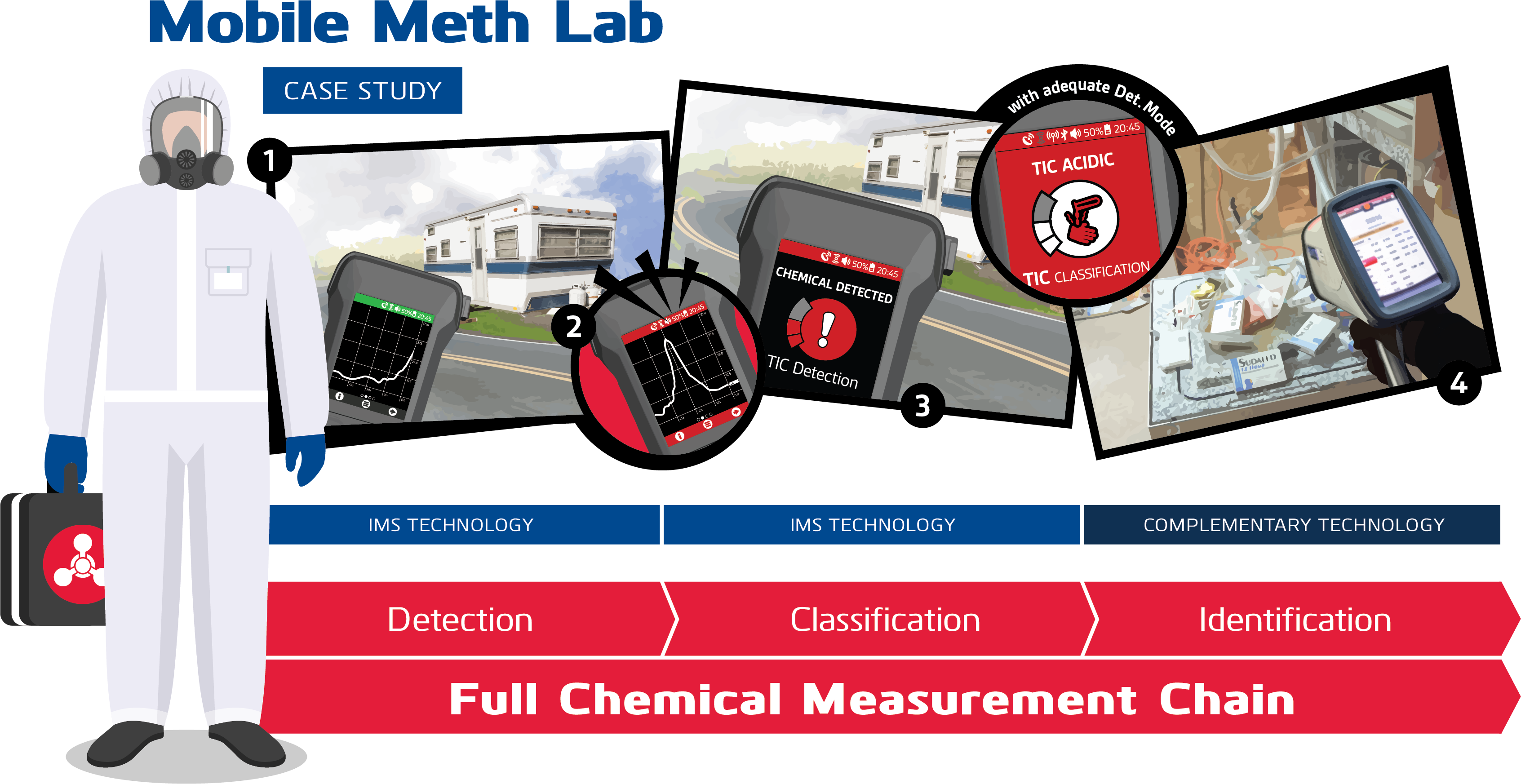 In order to further examine the interior of trailer, the hazmat unit officers were equipped with ChemProX, a handheld gas and vapor chemical detector, based on IMS technology.
ChemProX was utilized as a "first in alarm" to quickly survey the narcotics laboratory for immediate, potentially dangerous chemical threats. Not only it was important to quickly see if the chemical levels inside the trailer might pose a threat, but it was also important to understand where the possible chemical leak source is located.
Choose the Detection Mode
Follow the Trend Line
Alarm!
Safety Ensured by ChemProX
Further Analysis with Complementary Technologies
Would You Like to Know More?
For gaining access to detailed information regarding each of the above listed steps and more, please download the full white paper.