About the IACS (International Association of Classification Societies)
IACS (International Association of Classification Societies) is an umbrella organization for the classification societies consisting of 12 members.
As Wikipedia describes, Marine classification is a system for promoting the safety of life, property and the environment primarily through the establishment and verification of compliance with technical and engineering standards for the design, construction and life-cycle maintenance of ships, offshore units and other marine-related facilities. These standards are contained in rules established by each Society. IACS provides a forum within which the member societies can discuss, research, and adopt technical criteria that enhance maritime safety.
IACS & Naval CBRN Monitoring
Members of the IACS have defined their recommendations for effective CBRN monitoring system for the ships. System set-up with the recommended configuration gives effective protection for the vessel and its crew against the Chemical, Biological, Nuclear and Radiological threats.
The main purpose of the naval vessel CBRN protection is to protect ship crew, when chemical, biological or radiological threat is present. The key to effective protection is fast early warning of the possible threat. It is important to get this warning as soon as possible, because every second is valuable in CBRN threat situation. External detection system provides information of the threat outside of the vessel and enables timely protective measures, like starting the CBRN filtration system.  After protecting the crew and vessel, it is important to monitor internal conditions in addition to outdoor contamination while still being inside the hazard zone.
Environics' Naval and Maritime CBRN Monitoring Solution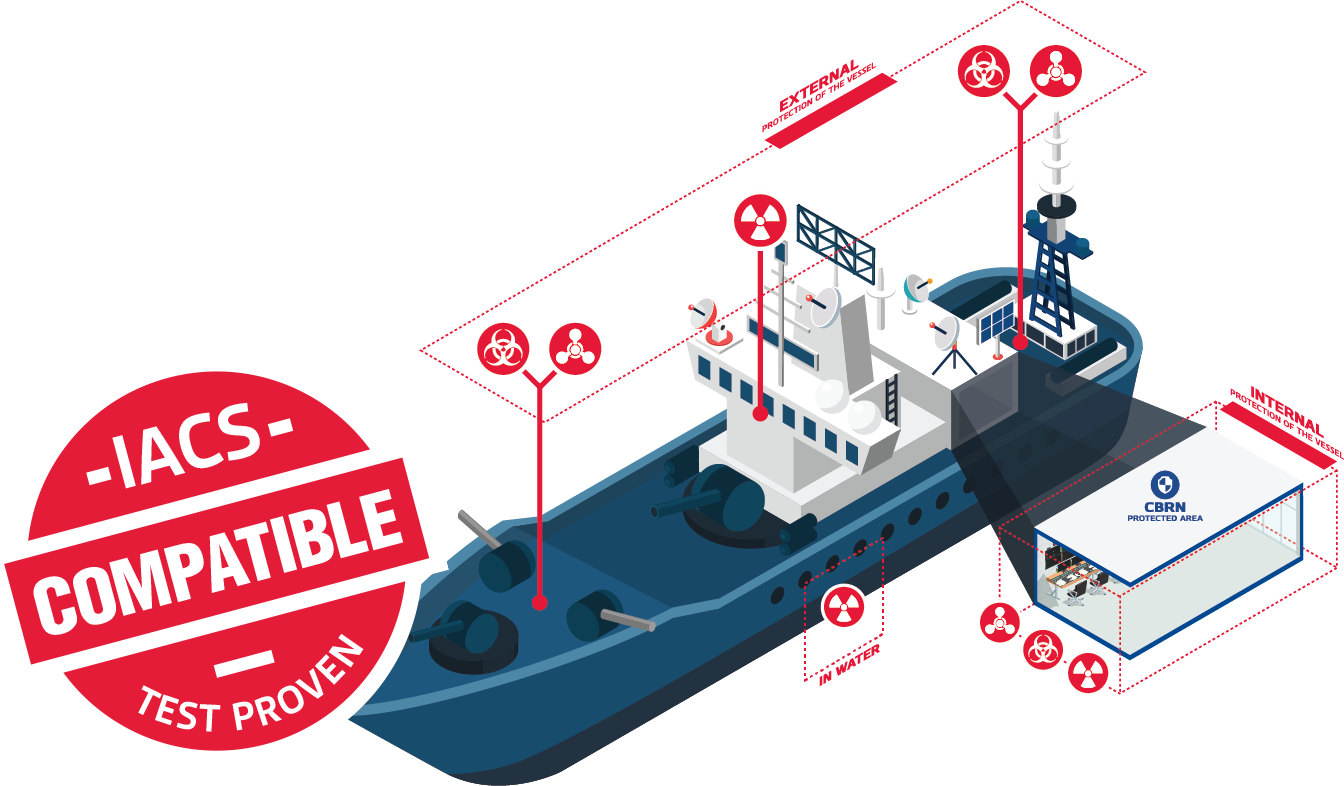 Classification society also sets specifications for properties for the devices installed in the ship, mainly environmental condition resistance and electromagnetic susceptibility.
System components, which are manufactured by Environics, have been tested against the IACS UR E10 requirements and proven to be compliant with the specification. Testing included also third party radiation detector and therefore, it is possible to build IACS compliant CBRN monitoring system by Environics.
Applying a type approval for a CBRN system device, however, is a challenging decision to make. This kind of special equipments are normally used also in other applications other than naval and maritime.
Getting certification to a device helps it to be accepted for the vessel installations, but freezing the device configuration may hinder the development needed in some other applications, like vehicle use or critical infrastructure protection. In addition, freezing the configuration also prevents further development in naval side itself, causing the delivery of outdated "old" systems due the impossibility to make changes. Frozen configuration will slow down the adaptation of the capability development made for other applications.
Therefore the decision to apply for a such an approval is not easy to make, and that is also why final approvals are rarely made unless there is a real end customer need or a similar situation.
Would you like to know more about our Naval & Maritime CBRN Monitoring Solution?