White Paper Abstract
Mobile Ranid Solutions – FXT Case Study
Download Full White Paper
Environics Ranid Products & Solutions
Basic radiation detection is as normal as "business as usual". Localisation of the radiation source at site is often "the missing link" for the situational awareness point of view. Also, verifying the results of the decontamination process takes time and resources.
The mobile RanidPro and RanidPort solutions provide tools to ease the burden of the operators on the field.
RanidPro200, a radionuclide identifier backpack with its innovative RanidSOLO source locator, copes with this situation by being the first automated gamma radiation localizer available for the backpack detectors. Operators explore the potentially affected areas with RanidPro200, collecting information from different spots and using triangulation method to calculate the location of the source(s).
When the source(s) are located and their activity has been estimated, it's possible to safely decide the further operational steps.
Monitoring the radiation levels in the operational area may not be efficient enough using just handheld detectors. For this overall area monitoring and also for decontamination results checking, RanidPort Mobile is the ideal tool.
RanidPort Mobile has a high volume NaI(Tl) scintillation detector, with rapid detection and identification capabilities, in presence of radioactivity or radioactive material. It can be integrated into different mobile platforms such as vehicles, vessels and airplanes, in addition to fixed installations.
It is clear that the overview of the situational awareness is essential for the incident commander. Real-time information with radiation detection, identification and source location data offers more tools to manage and solve the situation.
EnviScreen Operix 2020 is a sophisticated CBRN system software, which offers complete solution for CBRN sensor networking, monitoring, reporting and training capabilities.
The field exercise (FXT) case study briefly describes the use of RanidPro200 and RanidPort Mobile solutions and explains how the information is shared in real time to the command post for mission analysis.
The Case Study
The field exercise (FXT) was conducted as part of the EU funded (Horizon2020) INCLUDING-project in Mikkeli, Finland, in September 2021. This international exercise involving first response authorities from 10 EU countries was hosted and organized by local South-Savo Rescue Department. The purpose of the exercise was to demonstrate the use of radiation measurement equipment and a map application, in a situation where dangerous radioactive sources are found in the terrain. It worked as a joint learning event in which the authorities cooperate and develop activities in an incident involving dangerous radioactive material.
In addition, the aim is to draw up a general guide for the authorities on how to proceed after a radiation source has been found, and how to obtain as much information as possible from the source — safely and efficiently — using state-of-the-art technology.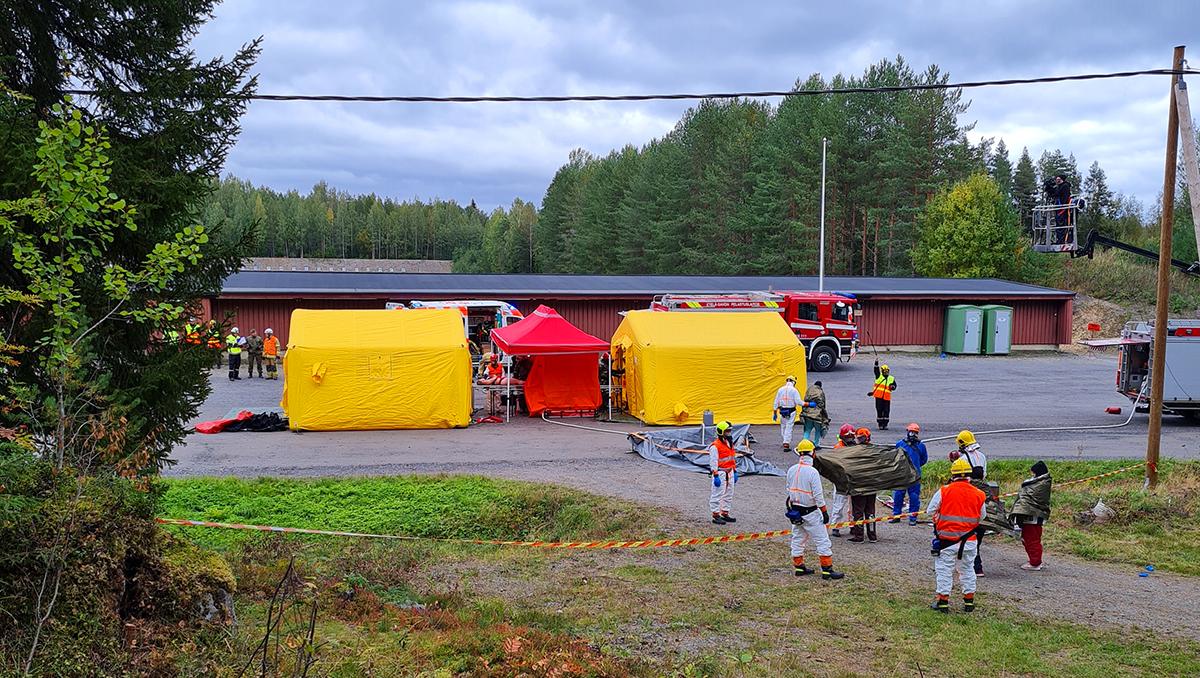 Would You Like to Know More?
For gaining access to detailed information regarding: testing the radiation monitoring equipment, testing the radiation source locator, testing the data communication, and test results, please download the complete 12 page white paper.